Elena Borstein's Architectural Paintings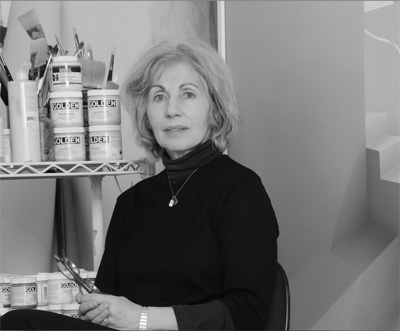 Elena Borstein currently lives and works in New York City and the Adirondack Mountains. Born in Hartford, Connecticut, She received her B.S. degree from Skidmore College and her M.F.A. from the University of Pennsylvania. She is Professor Emerita from York College, City University of New York. Borstein's work is included in numerous major collections including: The Museum of Modern Art, NY; Hayden Museum, MIT, Cambridge, MA; Neuberger Museum, Purchase, NY; Everson Museum, Syracuse, NY; Newark Museum, Newark, NJ.
Her work has also been in many solo and group exhibitions both in this country and abroad including: "American Realism" at the San Francisco Museum of Modern Art; Three exhibits at the Bronx Museum; and "New Acquisitions" at the Everson Museum, The Herbert F. Johnson Museum, The Museum of Modern Art and the McNay Art Institute in San Antonio, Texas. She was part of the Washington D.C. Corcoran Gallery's traveling exhibition called "The Liberation-14 American Artists" which traveled to 11 countries. Borstein is the recipient of a Purchase Prize from the American Academy of Arts & Letters.
In her recent exhibition at York College, CUNY, "Gift of Art", Borstein gifted 20 paintings to the college, which will remain on permanent exhibition.
Selected Public Collections
Museum of Modern Art, New York, NY
Newark Museum, Newark ,NJ
Everson Museum, Syracuse, NY
Neuberger Museum, Purchase, NY
Chrysler Museum, Santa Barbara, CA
American Academy of Arts & Letters St. Marys College, Notre Dame, IN
York College, Jamaica, NY
Albright College, Reading, PA
City College, New York, NY
University of Idaho, Boise, ID
Glen Jans Collection, Sun Valley, ID
JP Morgan/Chase Bank, New York, NY
Columbia Presbyterian Hospital, New York, NY
Ottawa Silica Corp., Ottawa, IL
Lehman Bros, New York, NY
F.M.C.Corporation, New York, NY
Squibb Corporation, Princeton, NJ
Amoco Corporation, Denver, CO
Gilbert & Tweed Associates, New York, NY
Whitco Chemical, Newark ,NJ
Home Box Office, New York, NY
Southeast Banking Corporation, Miami, FL
Merrill Lynch Corporation, New York, NY
Gollust, Tierney & Oliver, New York, NY
Rowan University, Glassboro, NJ